I know that in my last blog post I made a whole bunch of easily attainable resolutions for 2012, so I decided that I should at least pick one that will actually make me work. I decided that I am going to watch a movie every day this year. So that's 365 movies. For most people, this would be simple, as they sit in front of the television all night, but not I. No, I actually do things in my spare time, so I anticipate this being a bit of a struggle. A pleasant struggle.
I love movies. One of the many careers I want is to replace Robert Osborne on Turner Classic Movies. It's one of the only channels I watch. I could easily spend all my life watching Joan Crawford slap people and brilliantly chew through the scenery. I could while away the hours listening to Doris Day sing. I could fall into a happy trance watching Bette Davis chain-smoke and simper like a Southern Belle. I don't usually care much for the newer movies, but I have been known to enjoy them as well.
So, every week, I am going to write a blog about the seven movies I watched and do a little blurb about them. A paragraph or two, maybe a clip from the film, and lastly my review. I had a hard time coming up with my scoring system. I thought that five stars would be a good way to do it, but I found that too restrictive, so I finally chose to rate the pictures on a scale of 1 to 10. I can express my opinion much more clearly that way. Anyway, anyway, anyway, I hope that you enjoy reading and watching.
If you click the movie title, a video of the film will pop up in a new window.
January 1: The Devil and Miss Jones
This is a Jean Arthur film, and as such, I expected to laugh often and enjoy myself, but I did not. I've adored her and her particular voice in movies like If Only You Could Cook and Too Many Husbands, but here, she fell flat. I can't blame her, all the characters were unlikable for some reason. I blame the writing. The premise of the picture revolves around Charles Coburn's character, Mr. Merrick, who has been sent to take a job amongst the workers of a department store and find out who is causing trouble against the management. Either I'm stupid or it wasn't clearly explained, but the workers wanted better treatment or unionization or something. Merrick is a big-shot at the company and very rich (he's the devil from the title), so it's quite a role reversal. A boring plot compounded with unappealing characters made this picture less than appealing. [My rating: 2/10]
January 2: The Portrait of Jennie
I've often said (mainly to myself) that I look like Joseph Cotton's much more attractive grandson in certain lighting at a certain distance and from certain angles. I enjoy his acting, especially in one of my personal favorites, Hush…Hush, Sweet Charlotte, and the TCM description of this picture sounded like something I'd like. It's about an artist, played by Cotton's character, Eben, who comes across a young girl in Central Park one day. Jennie seems out of place because of the way she dresses, speaks, and the things she talks about. Eben becomes a bit obsessed over Jennie once she starts appearing every so often. Each time she's older and each time he falls more in love with her. His friends think Jennie is an illusion and he starts to believe it because the scenario is impossible. He researches Jennie's family and discovers that they're all dead, Jennie included. He gets over it rather quickly and paints her the next time they meet, it's a decent portrait, but not worth all the gushing the other characters do. Then, for some reason, we're at a lighthouse and everything is sepia and a tsunami is hitting New England and then Jennie dies…or maybe she doesn't, and they we're back in New York and everything is tinted aqua. The ending was predictable and though the story had a lot of promise at the beginning, I didn't care for it once the credits rolled. I've heard critics call it a masterpiece, but I take issue with that proclamation. [My rating: 3/10]
January 3: Diary of a Wimpy Kid: Rodrick Rules
We watched this movie at work as a reward to the children for bringing enough cans to save some hungry homeless people. I didn't anticipate liking this picture, but I very much enjoyed it. It's about Greg and his brother Rodrick…and…well…nothing really. They throw a house party and there's a girl named Holly and there's a joke about melted candy bars and floating corn dogs. It really wasn't about anything. Yes, the acting was atrocious and the plot was a phantasm of a yeti (I'm quite pleased with that one!), but the writing was smart and funny for kids and adults–like Arthur on PBS. I love that show, if you watch carefully, it's hilarious! It was a silly, goofy fun and I laughed more than the 6th graders who were too busy pretending to be cool to enjoy themselves. The actor who played Rodrick looks exceptionally familiar, I think I know him, but from where? And the mother wore the most amazing glasses. ¡Quiero! I recommend this. [My Rating 7/10]
January 4: A Royal Scandal
This film has been on my iPad for years waiting for me to watch it. I don't know why I put it off for so long–it's hilarious, plus my beloved Tellulah Bankhead is the star! Tellulah was not in much, but every single one of her films is a masterpiece, this is no exception. In this picture, Tellulah plays Catherine the Great to perfection. The story is about her brief love affair with Alexei Chernoff, an overzealous soldier from Russia's western border who is determined to save Catherine from a revolt he heard about. Catherine was so touched by his actions that she promoted him and promoted him and promoted him and promoted him and flirted wildly all the way. The film is so witty that it simply flies by. I adore it, and would have given it a perfect score, but the story did lag in parts, not long, but it was noticeable. This movie is currently unavailable on DVD, but fret not, it's on YouTube! The link above is the first part.  [My Rating: 9/10]
January 5: Dark Victory
This is another picture that I have been meaning to watch for ages, I still can't believe that I haven't–it's Bette Davis after all, and after Joan Crawford (my favorite of all actresses) she's one of the best. Judith, played perfectly, by Bette Davis is an irresponsible young socialite who seems to have something wrong with her. Her vision doubles, she's forgetful, she accidentally burns herself but is unaware of it, she falls for no reason. A handsome doctor named Frederick Steele is called and after examining her, she is diagnosed with a brain tumor. She has surgery, but the tumor will come back, Judith only has ten months to live. The doctors feel it is for the best for her to not know and carry on with life. Unfortunately, Dr. Steele and Judith find that they are in love. In time, Judith comes across evidence that she will die and becomes wildly angry in a stunning display of talented acting. Dr. Steele and Judith make up eventually and marry and move to Vermont so that he can research and she can be the wife she realized she wanted to be. Everything is going along swimmingly, but her clock is ticking, and then it goes out. If I ever die, I want to go as magnificently as Bette Davis acted in that scene. [My Rating: 7/10]
January 6: I Soliti Ignoti or Big Deal on Madonna Street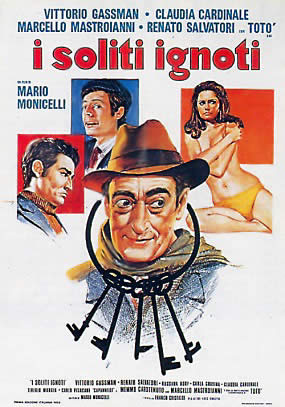 This Italian picture somehow ended up on my Netflix queue. I don't recall why I added it, I was probably searching for Madonna concerts and came across this. It's a screwball comedy about a bunch of pathetic burglars trying to steal the contents of a safe in a pawn shop. It's slow and boring at times, not quite hysterical like all the reviews I read, and I wouldn't watch it again. It was amusing at times and I laughed a little, but I could have made much better use of those two hours. [My Rating: 3/10]
January 7: Cadillac Records
This…this is a masterpiece and not just because my beloved Beyoncé is one of the stars. The story is great, the acting is superb, the music is divine, and the whole thing is just damn wonderful entertainment. The story is about Leonard Chess creating a music label and the successful singers he had and the issues they had to deal with to become successful and stay successful. That's a very watered down synopsis. It's so good, trust me, go watch it. If my random shouts of, "No Walter! Don't drink that liquor!" amongst other things had been recorded and put on the DVD, I think I'd be a millionaire. I was sucked into the film in a way that rarely happens to me with modern cinema, each new character and scenario was fascinating. I loved watching Leonard Chess rise up, up, up from junkman to music mogul and Mud become a superstar. I delighted in the raw emotions and the songs. And, even though she made me wait 50 minutes before showing up, Beyoncé made this picture unforgettable. She was Etta James. She was more Etta James than Etta James. I'm not a musical historian, so I don't know if the plot is true to life, but that did not matter, because I enjoyed every second of this movie, even when I was screaming at Walter to put his gun away and closing my eyes when the police were violent. It's beautiful and unforgettable. Heartily recommended. [My Rating: 10/10]
Film of the Week: Cadillac Records Great music, Beyoncé, fantastic acting, and beautiful cinematography…what more could you ask for? Maybe Meryl Streep, that woman can play any role!