LOVE:
SK-II Facial Treatment:
I am absolutely obsessed with beauty products, as I'm sure you already know tremendously well. If there's even the slightest hint that a mask or a serum or a toner or a cream would make me look young and beautiful forever, I will buy it. It's a disease that I have. I can't get enough. My cupboards are dangerously stuffed to bursting with all my products. I might have to throw them all out, though, because beloved reader, I found something truly amazing and it lives up to all the hype. I don't know how Instagram does it, but they have a miraculous way of targeting me with their ads and I am constantly being shown things I have never heard of but suddenly can't live without. The latest discovery is something called SK-II, which is a cult luxury beauty project from Japan. Several celebrities are endorsing it which is nothing that means anything but I was intrigued. It means the business is at least a bit legit which is hard to tell sometimes on an Instagram ad. I went to the online shop and screamed at the price. The smallest bottle was a hundred dollars and though I'm willing to be a fool, I'm not willing to spend a hundred dollars on something that might not work at all. I was curious, though, so I looked all over the Internet and finally found a travel size version for sale on Amazon. I threw it in the cart and waited and waited and finally, it arrived and I didn't really get it. You pour out a little of the liquid, which has the consistency of water — and splash it on your face. It has a vague scent that is not unpleasant and absorbs into your skin immediately. I shrugged after using it but when I felt my face later I could not get over how soft and smooth my skin was. Immediately I did some research and the stuff that I bought is simply fascinating. It was noted that Japanese sake brewers had soft hands even if they were very old. The fermenting sake was analyzed and a group of chemicals was discovered that work in tandem to result in the miraculous softness. These chemicals are almost identical to molecules in human skin and so they are immediately nourishing to your face. It's expensive but I'm obsessed and I won't be without it now. You simply have to try it out.
West Elm Plates:
In my forever goal to live in a vacation home, I have discovered that I have certain faults. I am a hoarder of beautiful things and I have an unhealthy obsession with plates. I don't think I've ever left an antique shop without a new piece of gilded Limoges porcelain, and I don't think I've ever had room service in a hotel without "accidentally" "dropping" a plate into my "bag." Whatever, I admit it's a problem and I'm doing so much better about it. My friend, Jose forced me to take a look at them all and decide if I really needed some of my collection. It was a battle and in the end, I might have gotten rid of like two plates. Like, I said, it's a problem. I have always told myself that eventually, I will put together a cookbook — and I truly intend to do so at some point — and I will need gorgeous plates for the photography. Without all my stunning plates, though, how would I put together a beautiful book? This is the defense that I tell people who question my teetering piles — they're like literal mountains — of plates. And then I had the bright idea that someday when I write my autobiography — which I truly fully intend to do — I will tell the story of my life in a coffee table book telling the story of my time on the planet through the stories of my plates. There will be gorgeous photos and vignettes and it's going to be perfect. I did this on a blog post once and it worked really well. At least I had a lot of fun writing it. Here's a link! But this eclectic collection of plates really gets in the way of my dream of living in a vacation home. I added to my problem by buying a new set of china last month so that I would have six matching settings for a holiday dinner I was hosting. I found the most gorgeous basic plates at West Elm — my only truly guilty pleasure (that heavenly spot is soooooooo expensive) — and I had to buy them at once. So now I have six gorgeous white plates that are rimmed with gold and they're completely dishwasher safe and I am absolutely in love with them. I cleaned out one of my cupboards, put a lot of plates into storage, and put these new dishes away and use them every day. I love their simple elegance and I feel like I'm having lunch at a nice restaurant whenever I use them. The new flatware and wine glasses are a magical addition as well. This consistency in my dishes is one major step towards living in the vacation home of my dreams. They come highly recommended from me and you all need to get to West Elm if you've never been before. Like I've told my nearest and dearest: you go into West Elm as one person, you leave as another, and the old you never comes back. It's luxury.
Pill Organizer: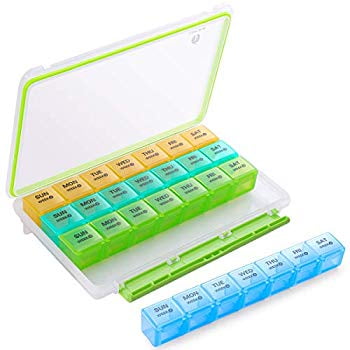 If you're anything like me, you have an obscene number of pills you need to take every day. I have a ridiculous regimen and I have a weekly pill organizer that I dread filling up on the weekend. I have to put in my Gilenya, my Prozac, my allergy meds, my Vitamin D3 and B12, my Modafinil, and a couple other recommended supplements. It's a pain to open all the bottles and fill each tiny compartment up. And I know that it takes at most five minutes, but the thought of doing it makes me want to jump off a bridge. I knew there had to be something better so I nearly squealed in delight when I saw a machine that would dispense my medications robotically. That's a me thing for sure. The devices had absolutely awful reviews so I didn't want to invest in a piece of junk. When I was scrolling around on Amazon, I found a monthly pill organizer and I squeaked instead of squealed and threw it in my shopping cart. I didn't think that I would love a pill organizer as much as I do, but reader, it is legitimately a dream come true. In a waterproof plastic box, there are four weekly pill containers that I have to fill up only once a month! I can't even begin to tell you all what a luxurious experience it is to rarely fill up my pill organizers. I almost feel like I don't have a half dozen chronic diseases. And then when I go on a trip or something, I just have to take the weekly organizer instead of the monthly box. It has absolutely changed my life for the better. There's not much more to say about a bunch of compartments for my meds so I won't say anything else. I can't recommend this purchase enough.
Knives Out:
I don't really love going to the movies. The idea of being sat in the dark for nearly three hours with over-salted popcorn and an audience of mouth breathers does not appeal to me in the slightest. I'd much rather be at home with my excellent air-popped popcorn and a glass of good wine instead of some junk from a soda fountain. Movie theaters have never exactly done anything to me to force me to feel so vindictive but it's just part of who I am. Still, even though I obviously feel so passionate about this, ever so often there will be a film that I simply have to see. It calls to me somehow. One of them is Jo Jo Rabbit and I missed my chance because Jessica absolutely and foolishly refused to go. She also made this mistake with White Boy Rick and I've still never seen it. And now Jo Jo Rabbit is nominated for multiple Academy Awards. Ugh. Whatever. Anyway, another film that I knew I had to see was Knives Out. It has an all-star cast, gorgeous architecture, and Martha Stewart did a promo for it where she sells a knife in an infomercial and violently stabs a turkey. It's an incredible ad. It should win an Academy Award of its own. And I screamed about it for months and finally Jessica relented and we went to the movies this weekend! It was just as good as I planned and I was actually delightfully surprised by the picture. There were elements that are completely unexpected. It's a marvelously clever deconstruction of the classic detective story. The plot of Knives Out is one that could have been taken from any of Agatha Christie's novels about her Belgian detective, Hercule Poirot, but then the standard proceedings are shockingly inverted. To say any more would give the film away, but I was held in a cinematic rhapsody for over two hours. The acting is exceptional and would you really expect any less from Christopher Plummer, Jamie Lee Curtis, Daniel Craig, Chris Evans, and Toni Colette? It was exceptional. Every frame of the film was flawless. And I have to add a tribute to the sweaters that Chris Evans wears throughput the picture. Each of them was a total triumph. They were their own character. You can even take a quiz on Buzzfeed to determine which of his sweaters you are! (I'm the cozy ivory chunky cable knit sweater, by the way, which is NOT wrong.) The film satisfies in every way, and I was so impressed with the story crafting. I wish that I could tell you more, but as I said, it would be impossible. You will be thoroughly impressed throughout the entirety of the movie. Go as soon as you can. It's going to be a classic of the genre.
Kris Jenner's Lemon Cake:
You all know me, I'm a pretentious snob and I want the best of everything. I don't think this is necessarily a negative quality, but I admit that it has forced me to miss out on some unique and delightful experiences. This is particularly true when it comes to the matter of food. For too long, I felt that prepackaged nibbles and box mixes were akin to chemical warfare. And, you know what, reader, oftentimes that isn't entirely wrong. But it isn't always entirely true either. I, like Khloe Kardashian, was shocked — absolutely shaken to my core — when it was revealed that Kris Jenner's infamous lemon cake was really more of a box mix than a homemade cake. I felt betrayed and lost, but I admit I was also deeply curious. It's not like Kris is just dumping a cake mix in a pan, so I'm not too upset. She's really mixing things that didn't come with the kit, so it's more homemade than it could have been. (Still, it's really not, but I decided I don't care.) And I was deeply suspicious, but for some reason, I couldn't get the thought of the cake out of my mind. So I had to make it. I went to Target to grab supplies, and they didn't have everything I needed, but they had substitutes that would work just as well. You combine a box of lemon cake mix with a box of instant lemon pudding mix, add four eggs, half a cup of vegetable oil, then a cup of water. I wanted to amp up the lemon, so I added the zest of one lemon to the batter and then instead of a cup of water, I juiced one lemon and then added water to make one cup worth of liquid. This is then baked for forty-five minutes, inverted out of a bundt pan, cooled, and glazed with a simple royal icing. It could not have been easier, but reader, it also could not have been more delicious. The color of the cake was gorgeous, the texture was absolutely flawless, and the flavor was out of this world. I honestly don't know how it's so good. I feel my world is teetering out of control because of the cake. I have spent years devoting myself to the careful composition of pastries. I am a graduate of Le Cordon Bleu Paris, after all! And yet there's this cake that is the epitome of simplicity and the very definition of delicious and I can't stop eating it. I won't be able to stop making it. In a haze, I found myself on Amazon putting an absurd number of bundt pans in my cart. I finally found the one that is featured semi-regularly in Martha Stewart's publications, and I screamed. It should be here this afternoon. I'm making more cake as soon as I get back home this afternoon. I have no regrets. The diet is off. This is the year of the lemon cake.