LOVE:
National Geographic's "History" Magazine:
My favorite magazine that isn't trashy gossip, fashion, or architecture is National Geographic. It's the only periodical that I read from cover to cover. I find it fascinating. The magazine covers the gamut from history to world events to genetic research and everything in between. It's a well rounded source of information, but for me, the most thrilling aspect is history. It was a considerable shock, then, to discover that there was a separate publication by National Geographic that was entirely devoted to history. I had seen these magazines on occasion at the checkout aisle of Walmart, but I had never fully understood that it was a regularly released magazine. Once I did, I immediately subscribed. Each issue that I've received has been tremendously interesting, and I can never wait the next. I've learned the most fabulous information about the advent of fork usage, Frederick the Great's possible male lovers, the construction of Notre Dame cathedral, and several wonderfully written pieces on ancient Egyptian history. This is one of those magazines that I will keep in my personal library because they are so valuable. I only keep a few of the regular National Geographic magazines if they have information about Egypt, but each issue of History has been riveting. The topics have been diverse, and I have learned so much. I'll subscribe to this magazine until it ceases publication, which had better be never.  
Pomodoro Technique:
I think I'm a fairly rotten student. I mean, I get everything turned in on time and I receive high marks on the majority of my assignments. But I'm terrible at getting it done in a timely fashion. It's turned in on time, like I said, but I usually do it the night before or minutes before. I am terrible at breaking things down into tiny chunks that are manageable. Instead I stay up all night and bemoan my cursed procrastination. Like Jennifer Saunders once commented, "I am the worst procrastinator in the world. I wish it was actually a named disease so I could go to a clinic." If I didn't procrastinate and waste time, I could probably have an advanced degree and already be a museum curator or something. Instead…no. Last night I was beating myself up something fierce because I had hours of work to do in a limited amount of time. (Admittedly, the preceding week had been ridiculously busy and I had next to no time to myself. And then the one day the entire day wasn't stuffed to bursting, I was so tired that I could barely eat let alone do higher level thinking. But enough of my excuses.) I recalled a tool I had learned about and used years before called the Pomodoro Technique. I've never entirely understood why, but there are timers that look like tomatoes — which is what pomodoro means in Italian. The basic concept is you spend twenty-five minutes seriously focused and then you are allowed five minutes of freedom. Then this cycle starts all over again. It doesn't sound all that generous, but I have found that it works tremendously well for me. It reassures my manic brain that it only has to stay on topic for less than a half hour. I look forward to those free minutes like a dog anticipating a treat. I downloaded an app version last night and it really helped me. I mean, I didn't get everything done, but that would have literally been impossible. Still, I accomplished more than I normally would. After four rounds of this, you get an extended break. I don't think I've ever enjoyed a moment of free time more in the entirety of my life. I am going to have to use this more zealously in the future, and I highly recommend you give it a go.
iPhone X:
I know that I haven't touched or seen the new iPhone. I get that. And I know that Apple is amazing at selling their products and somehow making me believe that I need them for a happy, healthier life. How else can you explain the iPads I've gone through, the number of iPhones and MacBooks I've owned, or the silly fact that I have an Apple TV attached to every screen in my house? I even have a router from Apple. They have mastered the game of marketing and selling a lifestyle. I wouldn't even consider buying from a different brand. Just last night when I was in class, I thought about grabbing one of those netbooks you can get at Walmart for a shiny nickel, but the thought was so repugnant to me. I didn't want to be seen as a person who didn't exclusively use Apple. Is that not ludicrous? Still, I'd rather shell out hundreds more dollars for a new MacBook or type on the screen of my iPad Pro than use a Windows machine. I don't care. It's a worthy sacrifice. Anyway, it is time for me to get a new phone. I have had the same one since the early days of 2015, and it wasn't even all that new back then. I have been waiting and I have been waiting and I have been going rather insane. For the first time, there's really nothing all that wrong with the phone I have, I just want a new one. And that dreamy iPhone X is going to be the one. I don't know how I'll afford it, but I'll own it. I think it's beautiful. And I love the thought of wireless charging. I bought an adaptor for my first iPhone that allowed this to work and it was revolutionary. It is such a marvelous convenience once you are accustomed. And that camera! I love to take photographs when I travel or of my cats, so I need to have the very best! And thankfully that is attached to a phone that I will never use to make calls! I hate talking on the phone. Text me! So, it comes out in a couple months. I need to start saving up my pennies. Oh what fun! And it scans your face to let you in! Isn't that the epitome of chic? Well, I'd better go look at the case options. Bye.
Award Winning Rosé from ALDI: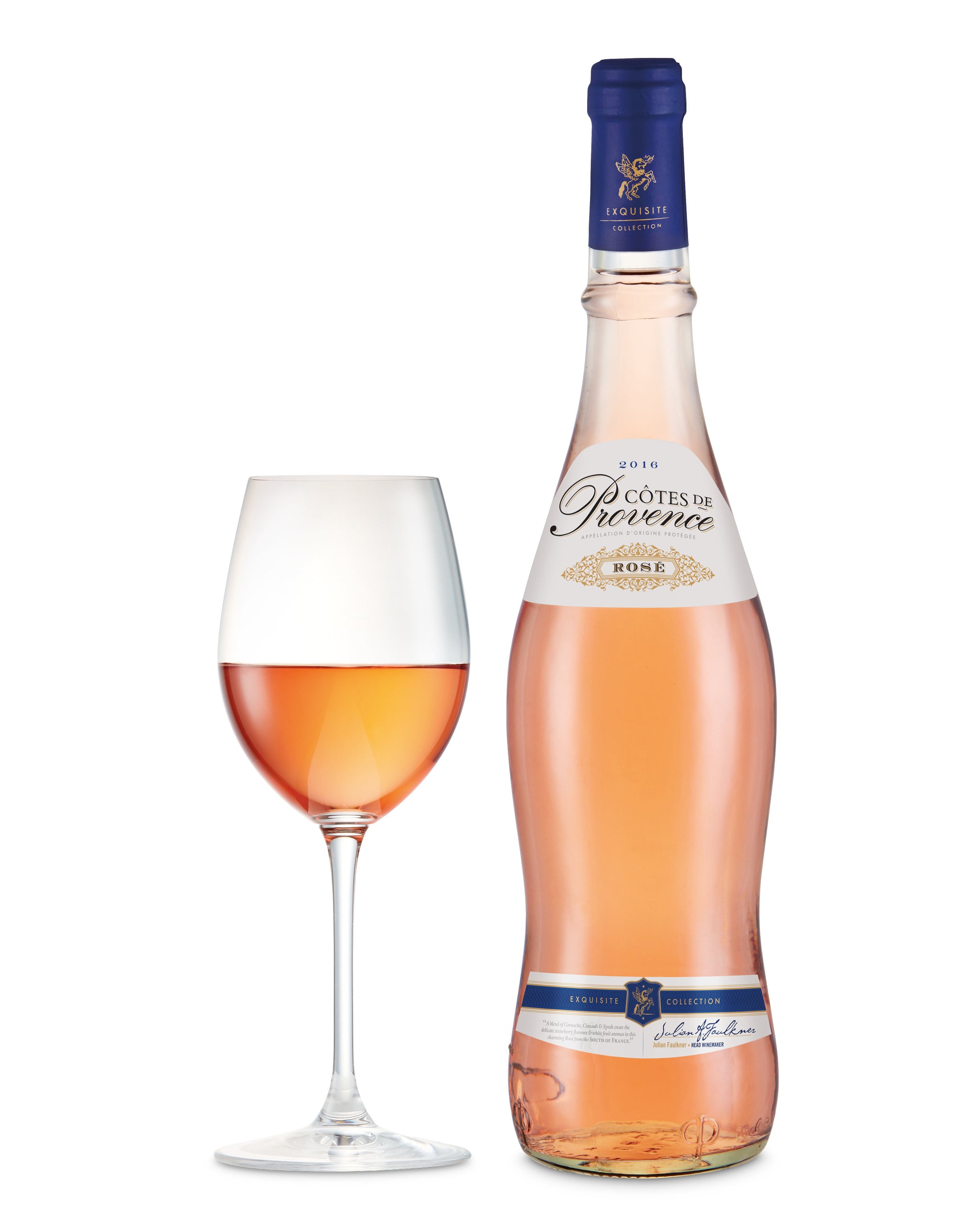 I always thought I might be a wine person, but it took me years and years to identify as one. The very first trip I made to Paris, I reveled in the opportunity to buy wine as a 17-year old abroad. I bought a glass of picnic wine, which was this fabulous trend a decade ago in France where cheap glasses were filled with a serving of wine and sealed with aluminum. You would then take this to the Champs de Mars, peel off the foil, and sip genteelly on a warm Parisian day. That wine was pretty meh. So I wasn't into it. Then when I moved to Paris to go to pastry school, I wasn't sipping any wine or coffee. One night, as a class celebration, we went to a set dinner at a rather nice restaurant. It was my first introduction to good wine, to espresso, to grapefruit, and to truly civilized dining. It was, in retrospect, probably one of the most impactful evenings in my life. It changed my palate completely. Back home I never got into wine. Gin for me, of course. In 2015, I spent a blissful month in Nice. There I was introduced to really good rosé, and I've been in love ever since. It's hard to get a good one here in Iowa, so I was fairly ecstatic when it was announced that one of the best rosés of the year was being sold at ALDI. Obviously I screamed. You all know my passion for ALDI, right? Of course you do. I couldn't find a bottle anywhere, but a friend finally came across one. I was on cloud nine. It was so good. It was dry and tart and just the way I like it. When I sipped on the first glass, I was immediately flown across the sea to Chez Betty in Villefranche-sur-Mer. I was in raptures of delight. But then the bottle was empty. Crushed, I moved on with my life and gave up buying rosés because none of them were any good. Last night, on my weekly jaunt to the finest grocery store in America, I saw there were a few bottles in stock. I, of course, bought some to enjoy. I can't wait. Hopefully we have a nice warm day this weekend. I'll sip my wine and eat a salad outside. It is going to be glorious. On the way out of ALDI, I grabbed a copy of next week's sales. On the cover is a bottle of that delicious wine. I'm thinking of framing it so that I never forget the memory. In fact, I just might. That will be hilariously extra. Very me.
Meditation:
I have done yoga for probably a decade. I don't do it as regularly as I used to do, which is a pity since I truly enjoy it, but my time is so strained most days. Perhaps I need to wake up twenty minutes earlier for a good stretch? Like that'll happen ever. With yoga, I became aware of meditation. Everybody has a basic idea of what it is, but the finer points are rarely understood. I didn't do it often because I wasn't fully aware how. At night I would do something like it, envisioning myself surrounded by light, clearing my mind, and thinking positive thoughts. It was helpful getting me to sleep. But I never really have had an active meditative practice. This year at work, I'm working in a room that teaches meditation as a bit of an experiment to see how students respond to it. I have marveled at those that have taken it seriously. Students have told me of their anxiety levels dropping, they don't want to yell, they accept themselves more. It's really rather remarkable. There are others that don't seem to be too intrigued, which I think has to be expected. They're frightened of admitting they'd do something so unusual. Or they're just too cool. Whatever. I'm somewhere in the middle. I think it takes a certain mindset to find the most success, and some days, I'm just not there. However, like I read today, it's called the "practice" of meditation for a good reason; you really do have to practice. A couple minutes meditation here and there won't do much good, it takes dedicated concentration. And now I am really starting to get into the groove of it. It's easier to calm down, easier to find a relaxed state, and I have even felt myself close to falling asleep a number of times. I had to actually lay down this morning because I felt so drowsy! This is definitely something I'm going to work on incorporating into my daily routine. It really doesn't take long, and it's so restorative. Give it a try, reader!